Six years have passed since Maidenance first visited the city of Kastoria giving an unforgettable live. This year's appearance on Friday, June 8, in Prague, has come to coincide with several delightful anniversaries, such as the 10 years of live performances that the band completes this year.
Ακόμη μία ευχάριστη σύμπτωση αποτελεί και η συμπλήρωση των 30 χρόνων από την κυκλοφορία του αξεπέραστου Seventh Son of a Seventh Son των Iron Maiden. Εδώ μπορούμε να σας αποκαλύψουμε ότι αυτό θα είναι και το κυρίως πιάτο της συναυλίας των Maidenance, οι οποίοι θα μας το παρουσιάσουν ολόκληρο, ζωντανά, μαζί με πολλά ακόμη τραγούδια από τη σχεδόν 40χρονη καριέρα των θρυλικών βρετανών. Η βραδιά αναμένεται τουλάχιστον συναρπαστική.
Δε σταματάμε όμως εδώ. Μετά τις 2,5 ώρες του live θα ακολουθήσει after party στο Prague, όπου οι παρευρισκόμενοι θα έχουν την ευκαιρία να συμμετέχουν σε κληρώσεις για πλούσια δώρα καθώς και πολλές ακόμη εκπλήξεις. Μη λείψει κανείς!
Με την υποστήριξη του Rockoverdose.gr.
Οι Maidenance είναι οι:
Mike Livas - lead vocals
Thanasis Hatziagapis - guitar, vocals
Stavros Gatsopoulos - guitar
Alexandros Stavrakas - bass, vocals
George Karahalios - drums
Kostas Rigopoulos - keyboards, vocals
UP THE IRONS!!!!!!
Παρασκευή 8 Ιουνίου 2018
Prague live stage - Καστοριά
Έναρξη 22:30
Doors open 21:30
Είσοδος 10€ με μπύρα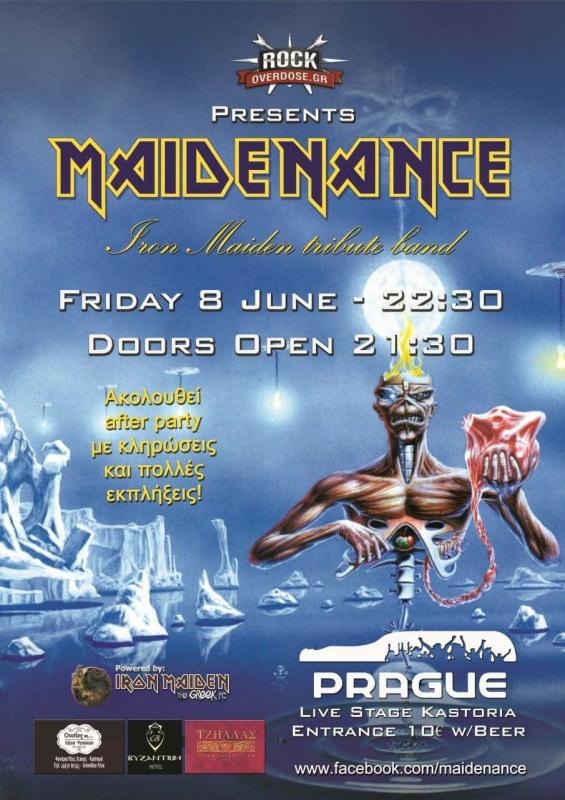 Με την υποστήριξη του Iron Maiden the Greek FC